Street Giraffes Telepractice 
  Gathering periodically on Sundays
(most often the 2nd Sunday of each month):
7 pm/ET (4 pm/PT) until 8:30 pm/ET
"Street Giraffes" is a free tele-practice group, that is rooted in Nonviolent Communication, yet branches out towards other modalities as well:  IRF, IPNB, etc., and gathers for "dialogue lab" (skill-building) experimentation w/ iGiraffe.  

While gathered at our watering hole, we'll experiment with practical skills to:
For the foreseeable future, we'll be working with skill-building exercises from Oren Jay Sofer's book, Say What You Mean: A Mindful Approach to Nonviolent Communication.
Here's a sample:
More on choice-points here 
To 
join our call
 please send us an
email
(for connection's sake, include a bit about your NVC/giraffe path, if you'd please), and then you'll receive the password to access our teleconference's
meeting wall
— with subsequent options/instructions — and/or intermittent email reminders.
And/or connect via social media:
Monthly Review Questions:
What is working about your [NVC/dialogic] practice?
What gets in the way of communicating mindfully?
What is your vision for speaking & listening with equanimity/presence?
What next step(s) can you take to enhance the quality of connection you seek?

(Courtesy of Marianne Van Dijk – Cup of Empathy/YouTube Channel)
  Top 3 ways of annoying people with your NVC + how to prevent them
See also:
Miki Kashtan's "Principle-Based Teaching" Materials
ZENVC's Mindfulness & NVC guidebook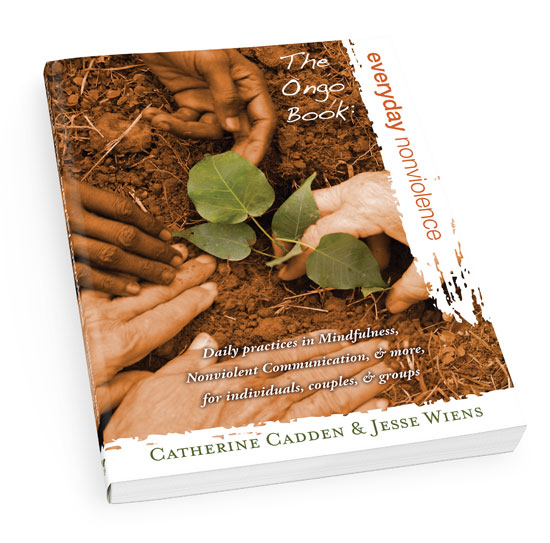 Praise for The Ongo Book (& NVC as a mindfulness practice):
"I once asked Marshall Rosenberg, creator of Nonviolent Communication, what it would take for me to 'really learn this stuff'. His answer: 'Practice, practice, practice.'" (continues)
–
Lucy Leu
, author of Nonviolent Communication Companion Workbook
"Live as if you were to die tomorrow. Learn as if you were to live forever."
 ~ Mohandas Gandhi

Graffiti: MLK, Gandhi & Mandela
Courtesy of Cjp24 via Wikimedia Commons
One of the most frequent questions I hear when I talk about Nonviolent Communication is "Why Nonviolent?" People feel uneasy. They hear the word nonviolent as a combination of two words, as a negation of violence. They don't think of themselves as violent, and find it hard to embrace the name.  For some time I felt similarly… Like others, I was unaware of the long-standing tradition of nonviolence to which Nonviolent Communication (NVC) traces its origins. Then I learned more about Gandhi. I became more acquainted with the story of the Civil Rights movement. Then I fell in love with the name Marshall Rosenberg gave to this practice, and more so over the years. Here's why… (continues)
For more as to NVC & Social Change Agency:
Street Giraffe
"This means prioritizing the consciousness over the form…" [OFNR]
~ Miki Kashtan
More on "street giraffe" (a synonym for naturalizing NVC) here
One example, from link above, regarding NVC's utilitarian efficacy
(see section on Nonviolent Communication):
Matt O'Brien:  In the first executive meeting after Nadella took over from his predecessor, Steve Ballmer, in 2014, Nadella brought a copy of a book about nonviolent communication for everyone in the room.

Ike Lasater, co-founder of Mediate Your Life (at about the 7 minute mark, beneath): "And, of course, you can use these skills in your day to day life…We use mediation as the metaphor, but this is really about mediating your life:  how to go from the conflicts within your head, to conflicts with other people, to supporting — by lending your skills — to people who are in conflict."
"To be a human being is to regularly be in conflict with oneself and others.  Since we are biological beings, we are not able to be inside another person's experience, which means that each of us has our unique frame of reference on the world…" (continues)
~ Ike Lasater [More About Mediate Your Life]
We'll be role-playing (a kind of musical chairs)…
Disclaimer:  This blog is a type of back-of-napkin, "structured procrastination," & free-associative scribbling; please forgive its hodgepodge, quasi-curated content — in advance — if its methodical madness befuddles or bemuses.
Thank you.
All inquiries/feedback welcome! (Really)
I invite you to join street giraffes on social media:
Excerpt:  One of Nadella's first acts after becoming CEO, in February 2014, was to ask the company's top executives to read Marshall Rosenberg's Nonviolent Communication, a treatise on empathic collaboration…

"NVC is an awareness discipline masquerading as a communication process."
~ Kit Miller of the MK Gandhi Institute for Nonviolence
 Louise Evans, Coach, Corporate Trainer, Author of 5 Chairs 5 Choices
By Vincent van Gogh – The Yorck Project:
10.000 Meisterwerke der Malerei.
Public Domain, Link
John Kinyon, "Three chairs can change your life…"
Excerpt (via John Kinyon, co-founder of Mediate Your Life):  "Three chairs can change your life.  In the world of professional dispute resolution, the three chairs represent two disputants and a mediator.  In our Mediate Your Life training, you learn to 'take the third chair.'  From this perspective, you perceive a different reality.  You become more centered and effective in responding to life's challenges and conflicts… Seeing the situation from the third chair can be very difficult.  Although obvious and simple at one level, the shift in perspective is a radical one that goes deeper and deeper.  I have at times found it quite challenging — and also extremely valuable — to live this out in my own life…" (continues)
Vision & Mission
The vision of the 3Chairs Project is a critical mass of people around the world working together to respond to the challenges we face, and creating a peaceful, healthy, and sustainable world.
The mission of the project is people having difficult and important conversations — personal, work, political — using a "3 chairs" structure and process that brings mindful awareness, compassion and collaboration to these conversations. It's about hearing and understanding each other in our differences and our pain, without needing to agree, and connecting at the level of our shared humanity to contribute to one another's well being. It's about having conversations that change us, that create the life and relationships we want, and that move us toward the world we envision… (continues)
TIME 100:  One of the first books Satya Nadella recommended to his staff after taking the top job at Microsoft was Nonviolent Communication, an unconventional choice for a company where aggressive communicators thrived.  Bill Gates famously upbraided staff with the phrase, "That's the stupidest idea I've ever heard," plus one expletive unprintable in a family publication. His successor Steve Ballmer was one of the few executives who could give it right back to Microsoft's formidable founder, according to co-founder Paul Allen, who offered a frank account of the pair's nose-to-nose shouting matches in his autobiography… (continues)
I believe that we learn by practice.
Whether it means to learn to dance by practicing dancing or to learn to live by practicing living, the principles are the same. in each it is the performance of a dedicated set of acts, physical or intellectual, from which comes the shape of achievement, a sense of one's being, a satisfaction of spirit. One becomes in some areas an athlete of God.~
Martha Graham

Credit: Wellcome Library, London.
Wellcome Images images@wellcome.ac.uk
http://wellcomeimages.org
A zoo with giraffes, tigers, and a peacock. (CC:4.0)
'An NVC practice as dustpan & brush…'
– Kit Miller 

(We'll work with lived experience, as composting, on the call.)
"We don't rise to the level of our expectations, we fall to the level of our training." ― Archilochos
"iGiraffe"

"Dialogue is a conversation … the outcome of which is unknown."
~ Martin Buber
Download:

By Andrew Nusca:  Excerpt ~ "There are two types of conversations you'd have at Microsoft when you'd explain things," Irving says. "One type of person waited for a break in the argument to argue back. The other listened to learn. That was Satya." Well before he was named CEO, Nadella "could suspend his disbelief and opinion to listen to you thoughtfully. The slight difference between listening to argue and listening to learn is not subtle. It's huge. Satya is soft-spoken but energetic, which is a weird combination." … In his first month as CEO, Nadella gave each member of his management team a book called Nonviolent Communication.

"Yeah, first of all I think that empathy is everything. If you think about it, even in the business context for us, our job is to meet the unmet, unarticulated needs of customers. That's where innovation comes from; there's no way we could innovate without having the deeper sense of empathy."
~ Microsoft CEO Satya Nadella
Cards with universal basic human needs. In the picture: A giraffe, that symbolic animal of Nonviolent Communication by Marshall Rosenberg
Interview w/ Nadella, "…look, let us make sure we are empathetic to each other's needs, because it requires that."
John Kinyon's list of 
See also:  NVC_cheat_sheet – Kent Bye
"In a separated world, I can attend to my needs or to your needs, not to both.
In a chosen interdependent world, I can embrace both." ~ Miki Kashtan
The Little Book of Courageous Living
Streetify
Defined:  "In modern prose and poetry 'street' is used to define non-mainstream, a form of anti-establishment. It probably means to disassociate from what is regarded as 'establishment'."
"Pluralism of expression"  
"…So, being kind to language is one of these—is one of these lessons that seems easy. It just means read, think and try to express your views, whether they're for or against, in your own words, because my very strong sense is that if we have pluralism of expression, we're going to be fostering pluralism of thought, and that if people can clarify why it is that they're opposing this or that, they're going to be more likely to be persuasive. And at a minimum, in the worst case, if you have your own way of expressing yourself, you at least clutter up the daily memes. You at least put a barrier in the way of the daily tropes. You at least form a force field around yourself and maybe the people who are closest to you, where it's possible to think and have a little peace." ~ Timothy Snyder, Yale Historian
(More on my idiosyncratic take on 'streetifying')
NVC & Inner Peace Part 2 – Body exercise
(iGiraffe courtesy of Catherine Cadden & Jesse Wiens)
Last but not least ~ If you've made it all the way down to the bottom of this page (whew!), then I'd also like to invite you to offer me, Pamela, any feedback on this site that might be helpful (whether it be broken links, content suggestions, etc.).  I'd welcome having the alternate perspective!