Courtesy of Catherine Cadden & Jesse Wiens

The mock "iGiraffe" serves as a kind of prop for balance during dialogic [warmup] reps, not dissimilar to barre classes in a ballet studio (perhaps moreso for the tongue/eardrum muscles):
Enrico Cecchetti insists that barre exercises "are to the dancer what scales and arpeggios are to the musician" cautioning dancers to "remember always that it is of far greater importance to execute ten movements correctly than execute a hundred in a careless or slovenly manner."

Sadie Lincoln, "Most barre-based classes use a combination of postures inspired by ballet and other disciplines like yoga and Pilates. The barre is used as a prop to balance while doing exercises that focus on isometric strength training (holding your body still while you contract a specific set of muscles) combined with high reps of small range-of-motion movements."
How to utilize the "iGiraffe" as a heuristic tool:
(Part 1) (Part 2) (Part 3) (Part 4) (Part 5)
NVC Dialogue Lab — NVC Marketplace
The "iGiraffe" is the brainchild of a couple of NVC certified trainers, Catherine Cadden and Jesse Wiens (who also happen to be a married couple!), both of whom really launched my more intentional study of Nonviolent Communication when I met them back in 2009.  Their design creativity and years of experience deserve all the credit and they've generously allowed me to use it for the 'street giraffes' practice group.  It's something that they originally came up with as a learning aide for a couple of NVC Academy courses they taught.  So, while it's not an actual phone/computer app, but more of a two dimensional imaginary 'cheat sheet' (in role-play scenarios), I have found the idea of it to be invaluable.  I've even had it as my phone's screen saver, at times, as encouragement and would imagine having the presence of mind to 'push a button' when in the midst of a challenging conversation.  If you'd like to get a sense of how Jesse and Catherine have used it, there are two options (not at all necessary to do, just an 'extra credit' type thing).  The first is, if you have an NVC Academy multi-media library subscription, you can access their two recorded classes using the "iGiraffe" at no cost.  Also there is an NVC Marketplace, where it's possible to purchase the classes outright (links above).
FYI ~ Catherine and Jesse's skill at imparting NVC consciousness to others can also be found in book form…
New Mindfulness & NVC guidebook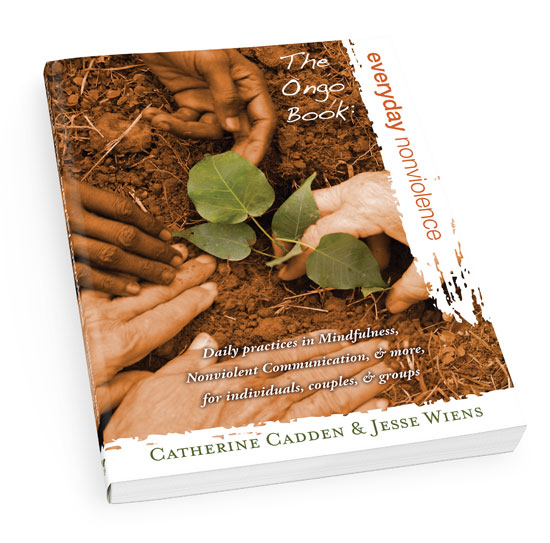 "I once asked Marshall Rosenberg, creator of Nonviolent Communication, what it would take for me to "really learn this stuff". His answer: "Practice, practice, practice." My Companion Workbook was written to offer practice in learning the NVC model, and now Jesse and Catherine take us further and deeper, providing practices to really get it in our bones, from the inside out. I highly recommend The Ongo Book as a way to take Marshall's suggestion to heart!"
– Lucy Leu, editor of Nonviolent Communication: A Language of Life,
author of Nonviolent Communication Companion Workbook,
and co-founder of the Freedom Project
"Born from a clever idea – to make long term contemplative practice doable at home – this book brims with useful advice. You will be encouraged to prioritize the values of meditative life, like compassion and clarity, in the midst of your ordinary situation. Organized to be accessible to solo practitioners, pairs or partners, and groups, the framework makes the The Ongo Book practices highly adaptable."
– Sharon Salzberg, author of Lovingkindness and Real Happiness
"In a hurried and harried world, here are some basic and potentially powerful ideas about how to remain stable and unrocked. My guess is they will become more valuable as our various external crises deepen, and some of the distractions on which we currently lean begin to show their shallowness."
– Bill McKibben, author of Deep Economy and co-founder of 350.org
"For many years, in my own evolution and teaching, it has been very clear to me that, in order to actualize our spiritual evolution, we need the support of a community who share our vision and values. The Ongo Book provides a practical support for this vision."
– Robert Gonzales, Center for Living Compassion, Author of Reflections on Living Compassion
More About ZENVC Ongo: Being Nonviolence/ Speaking Truth
"Using a wealth of wisdom and techniques from the many traditions they have explored, Catherine and Jesse have put together an impressively thorough and well-crafted program for spiritual development and well being. I am frankly amazed by their daring and skill."
– Norman Fischer, Zen priest, author of Experience: Thinking, Writing, Language and Religion and What is Zen?
An alternate "iGiraffe":

"Remote Control"_iGiraffe_[PDF]

Beginner Skill Level  •  Audio  •  01:16 hours:minutes
If role play, hearing conversations modeled and dialogue practice is how you learn, this is the telecourse recording for you! Learn the art of entering, staying in and bowing out of the conversational dance using real-life situations.
A Library subscription is required for access. Library members:  Sign In
Beginner Skill Level  •  Audio  •  03:44 hours:minutes
If role-play, hearing conversations modeled, and dialogue practice is how you learn, this 4-part telecourse recording is for you! Learn the art of entering into, staying in, and bowing out of "the dance" of communication, playing with your real-life situations using Observations, Feelings, Needs, and Requests as the foundation.