(Via Wiki: Team Naked Pictures of Be a Arthur)
The only learning which significantly influences behavior is self-discovered, self-appropriated learning. – Carl Rogers
(The place where I post as to upcoming NVC workshops most frequently is here however I also occasionally post here: @streetgiraffes, too. If you're new to NVC, there is a beginner's Facebook group overseen by Ray Taylor here. A drop down menu of additional NVC learning venues can also be found here.)
Beneath contains a cache of more long standing and ongoing NVC resources.

(Via Wiki: Giraffe on the Masai Mara by Richard Rhee)
Upcoming Learning Opportunities: 

Watch videos by the first generation NVC trainers here
Conversations
I invite you to follow me via social media — @streetgiraffes (Twitter/Facebook/Instagram) — links to follow can be found here.
Miki Kashtan's course on Naturalizing the Language of NVC & Learning Packet
Oren Jay Sofer's NVC primer:
Say What You Mean: A Mindful Approach to Nonviolent Communication

linker.ee/orenjaysofer
Additional [Free/Inexpensive] Opportunities and/or Resources towards Building the "Street Giraffe" Muscle (see details, further down…):


John Kinyon's
Across the Aisle
& Healing & Reconciliation
(both free/weekly/zoom-calls)
MediateYourLifeApp.com
linker.ee/john.kinyon
Mediate a Conflict From Your Life and Share It with the World as a Contribution to Peace: johnkinyon.com/events
Across The Aisle weekly meeting event, Wednesdays, 5-6:30pm PT. FREE to attend: johnkinyon.com/conversations-across-the-aisle
Empathy and Consciousness in Conversation online community. FREE to join. Community & Courses: johnkinyon.com/community-and-courses
Join Community+ for membership access additional benefits.
Additional resources can be found here
________
Yvette Erasmus, PsyD – Conversations from the Heart
(free/weekly/zoom-call)
linker.ee/dryvetteerasmus
See blog here & additional learning options here
Via Facebook: Dr. Yvette Erasmus is a psychologist, teacher, and consultant who specializes in transformative education for human healing and growth. Synthesizing mind-body medicine, somatic experiencing, diversity and inclusiveness, nonviolent communication, and integral-relational-cultural psychology, Dr. Erasmus offers various programs for community learning as well as one-on-one consulting. To learn more, visit http://yvetteerasmus.com.
________

Taste of Compassionate Leadership Free Teleclass – NVC Academy 
(free/monthly/zoom-call)
Open Hearted Practice Group – Pathways to Liberation 
(weekly/zoom-call/gift-economy)
_________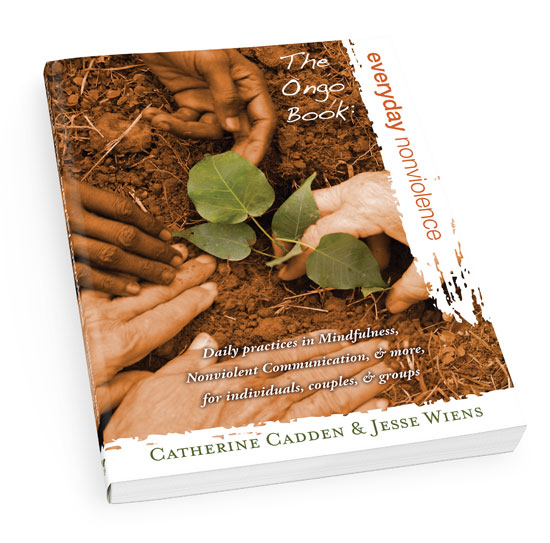 Ongo Online Retreat: The Practice of Everyday Life
Learn more about Nonviolent Communication, more broadly, here or by way of articles referencing journalistic renderings of same here: NVC in the News and additional NVC events/resources here: Street Giraffe State o' Mind: NVC Consciousness 
Contact Aya Caspi re: NVC & Parenting
Podcasts:
Jack Hart's podcast:
Let me know of any other resources that may be apropos for this page…
More irreverent NVC cartoons: http://anvc.svenhartenstein.de
Will update periodically…
Reckoning with Collapse via Miki Kashtan
The Fearless Heart blends theory, deep spiritual wisdom, vulnerable sharing of personal insights and experiences, radical vision, and practical tips for everyday living.

Join Miki monthly to discuss the recent posts on her blog. (Miki's calendar can be found here and additional recordings here.)

Some Highlights: 

Teleseries provided through the NVC Academy
Recordings of Miki's past teleclasses and interviews with the NVC Academy with dozens of offerings of both Miki's and other trainers' events.

Free calls

"Since 2014, Miki Kahstan has offered several free calls every month on a variety of topics that are all central to my work. These calls are audio only, and highly interactive. Usually there are about 40 people on each call. All calls are recorded and the recordings are available indefinitely. Each link below takes you to a page specific to that call, where you can learn more about the focus of each of the calls, register, find out about upcoming calls, have access to the recordings, and learn about additional resources for some of them." (courtesy of mikikashtan.org/my-offerings/#freecalls)

Reckoning with Collapse Calls (recordings only; calls no longer active)

Principle-Based-Teaching Coaching Calls (recordings only; calls no longer active)

The Fearless Heart Teleseminars (recordings only; calls no longer active)

 
New Mindfulness & NVC guidebook:
Additional NVC Mediation Resources:
NVC mediation pioneer John Kinyon's CNVC profile can be found here.
3Chairs Conversations Project
A Critical Mass of People on the Planet This Decade Using Empathic Structure in Conversation for Healing Social Divides
The structure of conversation shapes our consciousness into different "worlds" or realities. One world is that of connection, care, wellbeing and cooperation. Another world is that of disconnection, separation, suffering, violence and domination. There is an empathic structure of conversation that leads to connection, and also gives the ability to transform the world of fear, hate, and violence.
In a famous speech by U.S. President John F. Kennedy in 1962, he pointed to the moon and said we'll be landing there by the end of the decade. Seemingly impossible, breathtakingly bold and electrifying, Kennedy declared this vision as if it was already a reality, and then was fully committed to making it happen. Similarly, I hold the seemingly impossible vision of a critical mass of people in the world this decade having empathic conversations on the social-political-environmental issues and challenges we face.
I believe a critical mass of people using empathic structure in difficult and healing conversations across our personal, social and political divides is essential for humanity to be able to work together to respond to the many enormous and daunting social-environmental challenges before us. I see this as integral to the health and wellness movement and to creating a healthy and sustainable world for all people and all life on our planet.
The mission of this project is to spread the idea of empathic structure in conversation and that we can use it to heal our social divides and work together to respond to the challenges we face.
I call these "3Chairs Conversations" because I see empathic conversation embodying the "duality" of opposing and conflicting perspectives (two chairs) held by a larger capacity of consciousness to experience a "nondual" unifying awareness and language (third chair) that leads to new emergent possibilities. My hope is that you will be inspired to have these conversations, and that you will inspire others.
More modeling how to dialogue with those with whom we may differ, politically:
Across The Aisle: Open Conversation for Healing Our Political Divide, on Zoom and Facebook Live, Wednesdays 5-6:30pm Pacific Time
Choosing Peace: Having Difficult & Healing Conversations with Empathic Communication in Difficult Times, on Zoom, Fridays, 1pm PT
Choosing Peace
New Ways to Communicate to Reduce Stress, Create Connection, and Resolve Conflict is now available.
Choosing Peace is about creating inner peace and from that creating peace with others. In it, we give the reader concrete tools with which to do this. It is a very practical hands-on book, a relevant and accessible tool… Learn More
From Conflict to Connection
Transforming Difficult Conversations into Peaceful Resolutions
Interpersonal conflict is a fact of life. Whether you are directly in conflict with a family member or colleague, or simply experience sticky situations with others, being able to have difficult conversations in a satisfying manner can greatly improve your relationships and well-being.  Learn More…
Best wishes on your journey!